Rutland's Sarah Outen delays start of North Pacific row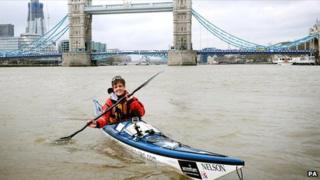 Rutland adventurer Sarah Outen has delayed a record-breaking solo row across the North Pacific Ocean due to unsafe weather conditions.
The 26-year-old British explorer was due to continue her 20,000-mile "London2London: via the World" solo expedition, which began last April.
She had been set to row 4,500 miles from Japan to Canada, becoming the first woman to do so.
But Ms Outen said strong winds would delay the launch by several days.
She said: "A strong gale which had previously been forecast to blow itself out to the south of me, is now forecast to blow right over the top and out along my proposed trajectory.
"So we will be on land for a few more days yet. More specifically, a week, we think."
During her trip, Ms Outen is travelling by kayak, bicycle and rowing boat.
On 1 April 2011, she set off in her kayak on her around the globe journey from London's Tower Bridge.
During her solo expedition, she will travel across three continents and two oceans, burning up to 8,000 calories a day and sleeping in a small tent by night.
Last November, Ms Outen arrived in Japan after cycling more than 10,000 miles through 10 countries and rowing 1,000 miles to Tokyo.
'Most gruelling'
Her challenge will now see her row solo for up to 200 days at sea, from Choshi in Japan to Vancouver in Canada.
Ms Outen, who has a fear of deep water, said the North Pacific Ocean was the "most gruelling part of my whole expedition".
"Physically and mentally, I expect to be exhausted most of the time - the distance, the solitude, the weather conditions and my complete isolation will make it hugely challenging," she said.
"Landing on the west coast of Canada will probably be the most dangerous part of the whole journey... at sea there is little chance of me crashing into anything."
She added that despite the challenges and dangers ahead "I still can't wait to get out there".
Only two men have previously rowed solo across the northern route, from Japan to America.
Following the row, Ms Outen is set to cycle 3,000 miles from Vancouver to Nova Scotia and arrive back in London in 2014 after rowing nearly 3,000 nautical miles across the North Atlantic Ocean.
Ms Outen was awarded an MBE after becoming the first woman to row solo across the Indian Ocean from Australia to Mauritius in 2009