Man pulled dead from Loughborough canal was 'scared of water'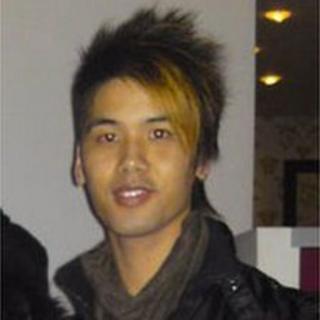 A friend of a man whose body was pulled out of a Loughborough canal said he would never have taken his own life.
Police have named the man as Xia Qiang Di Wang and released a photo in the hope someone will remember seeing him.
The 27-year-old's body was pulled out of the Grand Union Canal on 17 April and police still cannot say if his death is suspicious or not.
Mr Wang's friend, Maureen Cheung, said he was afraid of water and wouldn't have gone near the canal.
Ms Cheung said: "He was scared of water - he wouldn't go near the water. The only question in my mind is did [someone] push him?"
Mr Wang owned a business called Oriental Nails in Baxter Gate, Loughborough, and Ms Cheung said he was planning to do an extra qualification to help his business.
"If somebody was going to take his own life would he do all that?" she said.
"If anybody has seen anything I'm begging everybody - please come forward to the police."
Three different names
Mr Wang was a Chinese national but lived in Salisbury Street, Loughborough.
He was also known as Yeason Wang and Daniel Wang.
Police were called to a part of the canal near Canal Bank at about 02:30 BST after a member of the public saw his body in the water.
Leicestershire Police said Mr Wang's mobile telephone was last used on 11 April and his bank account was last accessed on the same day.
An inquest was opened and adjourned on 20 April.
A post-mortem examination has been carried out but police are waiting for results of further tests.
Det Insp Simon Preston said: "Until we receive the results of the tests we are unable to confirm whether the death is suspicious or not."