Conservation boat destroyed in Loughborough fire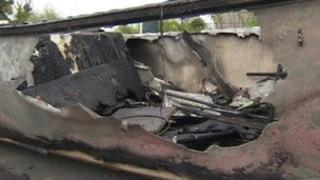 Volunteers who clear debris from canals in Leicestershire are starting a fundraising campaign after their boat was destroyed by vandals.
The canal boat's engine was stolen and the rest of the craft set on fire on Wednesday evening in Loughborough.
The Clear Cut Conservation group will need to raise more than £3,000 to replace the boat.
Volunteer Barrie Ball said: "I was devastated - I couldn't believe it when I saw it in such a bad state."
The group bought the boat in 2010 after winning a £3,000 community award.
It took six months to renovate the boat and prepare it for clean-up duty, Mr Ball said.
"Not only are we keeping Loughborough clean but it is a brilliant day out for us and it was a good laugh."
Fellow volunteer Jane Johnson said: "I hope the thieves realise what upset they have caused and see how it has affected all of us."
Leicestershire Police are investigating the theft and arson attack.