Hundreds of jobs to go at Leicestershire pie and pizza firm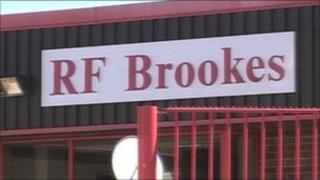 A Leicestershire-based food producer is cutting almost 200 workers in its second major restructuring in less than a year.
RF Brookes, now owned by 2 Sisters Food Group, made 200 workers redundant in June 2011 when owned by Premier Foods.
The new owners said the move was "regrettable but necessary" after the firm lost a contract to supply products to Marks and Spencer.
The firm employs about 500 workers at its factory in South Wigston.
'Very competitive'
Harborough Conservative MP Edward Garnier said: "The decision is not surprising considering the announcements made last year that they were losing the Marks and Spencer contract."
He said food production was a "very competitive market" where buyers demand high quality and efficient production.
"I hope the factory remains open as it is source of a lot of jobs in the area."
2 Sisters spokesman Andrew Hanson said: "We are working hard to improve a loss-making site we inherited but regrettably are proposing the 193 redundancies to sustain the rest of the jobs at the site.
"The proposed 193 redundancies at RF Brookes are regrettable but are necessary following a review of the business' demand over the coming months and reflecting lost supply business during 2011, prior to 2 Sisters' ownership of the RF Brookes business.
"Throughout the 90-day consultation period, 2 Sisters Food Group will continue to seek new business to replace the loss of business last year."