Leicestershire Police appeal over stolen Romany caravan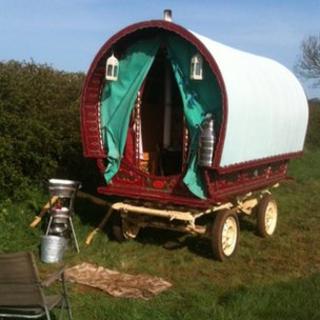 Police are hunting thieves who stole a restored Romany caravan in Leicestershire.
Officers said the horse-drawn carriage was stolen between 08:30 and 09:30 BST on Tuesday, from Sewstern.
The caravan has a bow top, the initials KW on the doors and burgundy paintwork with gold leaf horses.
The owner, who did not want to be identified, said he and his partner had spent the past two weeks doing the caravan up and were "gutted".
"We were supposed to be going up to Belvoir Fair this weekend and then we were going to live in it," said the caravan owner.
"There were loads of possessions in there and they have all gone. We are absolutely gutted. Someone has come along, stolen the caravan and ripped apart our lives."
PC Paul Anderson said the caravan may have been taken away on another vehicle.
"The caravan is quite distinctive. If you saw any activity in the Sewstern area on Tuesday morning, we would urge you to contact us," he said.