Martin Johnson opens new Hope Against Cancer research unit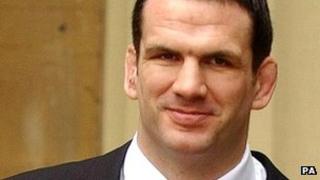 A new cancer research unit to test treatments on volunteering patients will be opened at a Leicester hospital.
The Hope Against Cancer Clinical Trials Unit, based at Leicester Royal Infirmary, will focus on cancers of the pancreas, lung and kidney, as well as melanomas, leukaemia and lymphoma.
Clinicians will use new drugs which are at an early stage of development.
Former England rugby captain and manager Martin Johnson will officially open the East Midlands research unit.
Follicular lymphoma, a type of the blood cancer, will be one of the first cancers to be tested at the new facility, which includes a laboratory, a treatment and pharmacy area and clinic rooms.
'Personal experience'
Experts from University of Leicester and University Hospitals of Leicester NHS Trust will investigate the use of a new unique antibody in combination with chemotherapy.
Sarah Nicholson, from the Leicestershire, Northamptonshire and Rutland Cancer Research Network, said: "Previous trials have indicated that this particular antibody has been highly effective in relapse.
"It makes a real difference to patients and researchers to have a dedicated facility to carry out this research in Leicester."
The former Leicester Tigers captain Mr Johnson, who is an honorary graduate of the university and a patron of the charity Hope Against Cancer, said he was delighted to be opening the new facility.
"I know from personal experience how devastating this disease can be and bringing cutting edge treatments to local people I think is a cause worthy of support," he said.
The Leicestershire and Rutland charity, established in 2002, has funded 29 research projects at universities and hospitals, looking at a range of cancers.
Wendi Stevens, from the charity, which has raised more than £2.4m over 10 years, said: "We are extremely grateful to Martin for coming along to open it officially.
"This new unit will provide a comfortable environment for patients involved in research."
The unit is funded by University Hospitals of Leicester NHS Trust and Hope Against Cancer.