Eurovision 2012: Hanging with the Hump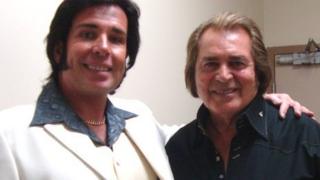 On Saturday more than 100 million people are expected to tune into the Eurovision Song Contest. Among them will be many in the East Midlands where UK entrant Englebert Humperdinck - or "The Hump" - spent his formative years and where he still returns.
"Thank you buddy, you do a great Humpy".
Scott Dee, an Engelbert Humperdinck tribute act, won endorsement from the "King of Romance" after performing for him in Las Vegas last year.
The 49-year-old from Nottinghamshire described his idol as "a true gentleman... a down to earth guy who just happens to be a legendary superstar".
On Saturday evening, the veteran crooner - best known for his 1967 hit Release Me - will represent the UK in the Eurovision Song Contest in Baku, Azerbaijan.
Game of darts
At 76, he is the oldest male vocalist in the history of the contest, and Mr Dee thinks his "phenomenal talent and track record" speak for themselves.
"We have a living legend with charisma performing a beautiful ballad," he said.
"My wife Michelle and I were his guests for four days [in Las Vegas]... saw two of his shows and were invited to his rehearsal and sound check... and hung out with the Hump
"He was so lovely, very kind and down to earth, we felt like a part of the family."
Engelbert Humperdinck has many friends in the East Midlands, where he has lived on-and-off since he was a child.
Although he spends much of his time in Los Angeles, he has a house in Great Glen, Leicestershire, and often drinks at the Old Greyhound pub.
Landlord Peter Hockenhull said he became good friends with the singer after a game of darts.
"It started one evening when Engelbert was dining at the Greyhound and we arranged to play a game at his house - needless to say I lost," he said.
"He is always relaxed, easy to talk to and in fact just a very regular person, no delusions of grandeur or anything... an everyday fellow and a pleasure to be in his company.
"I know that the village of Great Glen is proud to have him as a resident. I and the village would be ecstatic if he won Eurovision."
'My son is home'
Born Arnold George Dorsey in 1936, Engelbert Humperdinck moved to Leicestershire when he was 10.
He has nine siblings, many of whom live in the county with their families.
His niece Valerie Weafer, from Billesdon, said she has many fond memories of spending time with her famous uncle.
"Christmas time at my grandparents home was great when he was there. lots of love, laughter and of course music.
"He is just Uncle Enge, a regular kind of guy. He is a man of great faith who always makes the time to visit all his family whenever he is home in Leicester."
Another niece, Jackie Holford from Quorn, said: "When I was younger and he used to come home to Leicester, he would drive his car up up to the house and press his memorable car horn. When she heard it Granny would say excitedly, 'my son is home'."
Ms Holford said she would "cry with joy" if her uncle won at Eurovision.
And no-one is more excited about Saturday night than Beryl Garlick, the president of Engelbert's Union Jacks - his official fan club.
She said: "My first very memorable moment with Engelbert was when I went on stage with him in 2006. He sat facing me on my knee singing 'You Don't Know Me' - a lovely experience.
"It was something I felt too nervous to do, but two friends pushed me into it and I'm so pleased that they did.
"Engelbert should win Eurovision because he has a great voice. He deserves to win, and I'm sure that he would be so proud that he had done it for his country."
Engelbert Humperdinck will open this year's Eurovision Contest, with his ballad Love Will Set You Free.