Jubilee beacons lit in Leicestershire and Rutland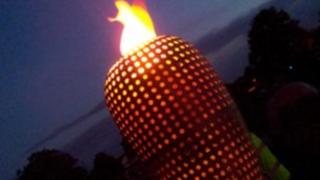 More than 70 beacons were lit across Leicestershire and Rutland to celebrate the Queen's Diamond Jubilee.
Abbey Park in Leicester, Beacon Hill in Woodhouse Eaves and Lutterworth Country Park were among more than 4,000 around the world that will be lit in sequence.
The event at Abbey Park included a lantern parade and fire sculptures. The beacon was lit at 22:15 BST.
The fires were lit to mark the Queen becoming the second monarch in British history to celebrate a 60-year reign.
'Historic occasion'
Originally used for communication or as warnings, beacon chains have come to be used for celebrations.
They were lit for Queen Victoria's Diamond Jubilee in 1897 and Queen Elizabeth II's Silver and Golden Jubilees in 1977 and 2002.
Leicester city mayor Sir Peter Soulsby said he was "honoured" to be lighting the Abbey Park beacon.
He said it was an "historic occasion" and the beacon lighting event was an "exciting and magical way to mark it".
The Queen ended the ceremony by lighting the National Beacon in London after a BBC Concert.