University of Leicester to get £2m 'supercomputer'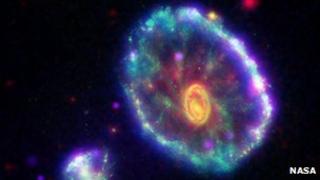 A new £2m supercomputer which will help scientists study the universe has got the go-ahead after funding was awarded to the University of Leicester.
It will be used by academics to help them understand the formation of stars and planets.
The university has been selected as one of four sites to host national high performance computing (HPC) facilities.
Dr Mark Wilkinson, from the university, said it would give them the chance to study the origin of galaxies in detail.
"It's very significant for us in Leicester and for the UK as a whole," he said. "We will be able to do major new simulations and understand the origins of galaxies, how do stars form, how do planets form.
"This computer will give us the opportunity to study them at a level of detail we've not been able to do before."
'Astronomy problems'
The supercomputer is 2,000 times more powerful than a home computer.
It has about 5,000 core, or chip, processors compared to the two, or four, in a standard PC, said Dr Wilkinson.
He added that the cores had been designed to communicate with each other, making it one of the most powerful computers in Europe.
The new supercomputer will be set up in July and it is hoped it will be online by November, ready to solve "complex astronomy problems", said the university.
Three other sites which will host HPC facilities, in Durham, Edinburgh, and Cambridge, have already been announced by the Science and Technology Facilities Council.
Funding for the project came from the Department for Business, Innovation and Skills (BIS) e-infrastructure budget.