Rower Sarah Outen 'feared for her life'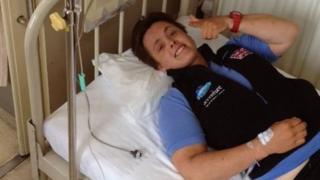 British adventurer Sarah Outen said she was exhausted but glad to be safe after being rescued from stormy seas during her row across the North Pacific Ocean.
The 26-year-old, from Rutland, was forced to abandon her attempt to become the first woman to row from Japan to Canada when she hit bad weather.
After arriving in Japan on Sunday, she told the BBC she had feared for her life in the "horrific conditions".
"It's been a bit surreal in some ways to be back on land so soon," she said.
She added: "I'm pretty exhausted at the moment, physically and emotionally, after everything that's happened in the last few days, but I'm happy to be safe and grateful to everybody who was able to coordinate the pick-up."
Ms Outen was dehydrated when she arrived in Japan and spent some time in hospital on an intravenous drip before heading to a friend's house.
Boat 'a plaything'
She was bidding to become the first woman to row 4,500 miles (7,250km) from Japan to Canada when her boat, Gulliver, was damaged by high waves during a tropical storm.
"You only ever make that call, the distress call, if you fear for your life," she said.
"Ultimately the condition had caused such damage to the boat that it wasn't safe to carry on.
"The waiting was challenging in that the conditions were still very severe. Physically being thrown around and capsizing you feel uncomfortable.
"I banged my head at one point. Being strapped into that one position for so long was so uncomfortable.
"Then you've got the emotional and mental stress of all of that happening and not quite knowing what's going to happen."
"This was the worst I have ever seen the sea and I hope never to be in those conditions in a boat again. It was horrific."
"Just huge amounts of wind, a very strong wind, waves. The boat is just a plaything when you get to that point.
"There was water coming into my cabin and it was wet and the safety rail had been ripped out."
The record attempt was part of a 20,000 mile (32,000km) round-the-world solo expedition. Ms Outen said she would consider her next steps.
Another British rower, Charlie Martell, of Cirencester, Gloucestershire, also abandoned his solo Pacific journey when he was hit by the same storm.