Barwell expansion: Council says poll will not halt homes plan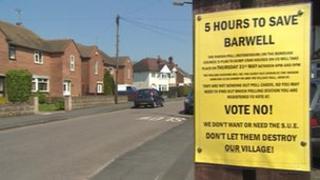 Residents in a Leicestershire village have vowed to fight on despite a council saying a referendum will not change plans for 2,500 homes.
Leaders of Hinckley and Bosworth Borough Council said they intended to proceed with the development, which would double the population of Barwell.
Residents fear the expansion could swamp services and voted overwhelmingly against it in a parish poll on 31 May.
But the authority said poll's result carried no legal weight.
A consortium of developers claims building the new homes, along with a school, shops and commercial buildings, west of Barwell will create 1,000 jobs and inject £250m into the economy.
'Clear statement'
Opponents fear it could create traffic problems as well as putting a strain on local services and called a parish poll on the issue.
Campaigner Rob Taylor said: "We wanted to prove to the borough council that there was a majority in the village opposed to this plan.
"Out of an electorate of just over 7,000, we managed to get a 96% vote. Only 63 people in the village actually want this development to go ahead."
But Stuart Bray, leader of the Liberal Democrat-controlled council, emphasised that of the 7,000, less than 25% had voted.
"Seventy six percent of people in Barwell did not bother to turn out to vote in it, they could see the referendum for what it was, which was politically motivated."
He added: "The returning officer here at the council issued a very clear statement when there was talk about this poll that legally the council cannot take account of the result, whatever it is, in terms of the planning application."
Hazel Smith, a Conservative councillor for Barwell, said the authority should take residents' concerns into account.
She said: "People have given their view and the council should listen to what that view is."
Residents are now planning a protest march.
A decision on whether to allow planning permission for the development is due later this year.