Leicester park's geese 'eating too much junk food'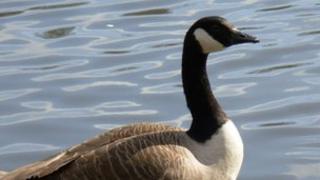 A campaign to stop visitors feeding geese "junk food" at a Leicestershire park has been launched.
Leicester City Council said it wanted to curb Watermead Country Park's Canada goose population and reduce the amount of droppings the birds produce.
Park officers said they collected 17kg (37lbs) of bread, much of it still wrapped and in date, on Tuesday.
The council has powers to issue an £80 penalty to anyone found leaving excessive amounts of food.
During the four-week campaign the fines will not be enforced.
Parks officer Paul Barker said bread was "the junk food of the bird world" and could make the birds ill.
Stewart Doughty, Leicester City Council parks manager, said: "Geese are notoriously greedy animals and when people leave piles of food waste, they will tuck into it happily.
"The people leaving the food probably have no idea that they are doing anything wrong."