Rutland Royal Artillery march through Oakham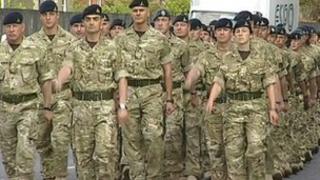 About 50 soldiers of the Royal Artillery have marched in Rutland after serving six months in Afghanistan.
Hundreds of people welcomed soldiers of 32 (Minden) Battery, 16th Regiment Royal Artillery, as they paraded in Oakham on Friday to mark their return.
The soldiers, based at St George's Barracks, North Luffenham, were joined by the Band of the Ghurkhas.
The regiment, which provides low level air defence, is the only Rapier Regiment in the British forces.
'Extremely grateful'
The Royal Artillery started from Northgate and marched along Station Road, Melton Road and on to the High Street.
The soldiers continued to Oakham Castle where they were awarded their Op Herrick Campaign medals.
Battery commander Major Chris James said: "We are extremely grateful for all the support that the local community has shown and continues to show the regiment and very much appreciate Rutland County Council marking our return with this event."
The 32 (Minden) Battery was responsible for the operation of the force protection systems at Camp Bastion and Kandahar.
Last June, crowds welcomed soldiers, who had served six months in Afghanistan, to the town from two units at the St George's Barracks base.
The medal parade was attended by the Lord Lieutenant of Rutland, Dr Laurence Howard, the chairman of Rutland County Council and the mayor of Oakham.