Workers join factory picket line in Leicestershire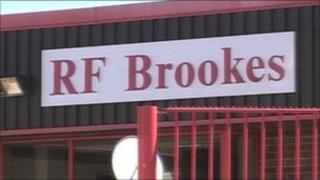 About 150 workers have joined a picket line outside a food factory in Leicestershire.
They were protesting about a redundancy package being offered to about 200 staff by bosses at RF Brookes in South Wigston.
Its parent company, Two Sisters Food Group, said the changes were being made to secure the long-term future of remaining staff.
The Bakers and Allied Workers Union said the offer was unacceptable.
George Atwell, from the union, said: "There was no consultation, there was no engagement by the company."
Andrew Hanson, from Two Sisters Food Group, said the company was trading in tough conditions.
"It's tough out there, we need to be very clear and realistic in the current market, we've got to be competitive," he said.
The job losses are down to the company losing a contract to supply pies to Marks & Spencer in June 2011.
RF Brookes currently employs 720 staff and has said it would work to preserve the remaining 520 jobs.