Leicestershire council leader David Parsons rejects quit call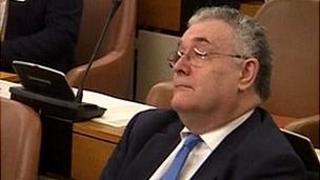 The leader of Leicestershire County Council has said he will not resign after being criticised by a standards committee over his expenses.
On Tuesday, the committee backed an independent report which said Conservative David Parsons had breached the Councillor's Code of Conduct.
In a statement, Mr Parsons apologised "unreservedly" but said a line should be drawn under the matter.
The Labour group has called for him to go and accused him of arrogance.
The report said Mr Parsons had breached the code of conduct four times after failing to promptly repay money for trips to Brussels, despite repeated requests.
Written apology
Travel costs were initially covered by a body called East Midlands Councils (EMC) but were later reimbursed to Mr Parsons by the European Union.
The investigation found in October 2011, EMC raised concerns about money owed to it since September 2010.
By December 2011, more than £3,900 had not been paid back to EMC.
The standards committee - which no longer has the power to suspend him - has demanded a written apology.
Council 'disgrace'
Further punishment is up to his own members within the Conservative Group.
In his statement, Mr Parsons added: "I am also pleased that the committee found no suggestion of dishonest intent.
"I believe that these attacks against me have been politically motivated. Due process has been satisfied and I now intend to draw a line under the matter."
But Max Hunt, the Labour group leader, rejected this, saying: "He should have walked when he was found out but he has taken this council right to the very edge and, at the end of the day, he has nowhere else to go now.
"He has allowed his own temperament, arrogance and seniority on the council to get the better of him and it has been a disgrace to him and this council."