Government overturns Shepshed incinerator decision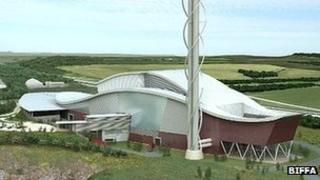 A decision to reject plans for a waste incinerator site in a Leicestershire village has been overturned by the government.
Leicestershire County Council twice rejected Biffa's application to create a facility capable of burning 30,000 tonnes of rubbish a year near Shepshed.
The firm appealed against the council's decision and a public inquiry was held.
The authority said it was "disappointed" with the secretary of state's decision.
'Compelling' benefits
The county council first rejected Biffa's planning application in 2010 and turned down a revised application last year.
The firm appealed against the council's decision that the scale of plans for the former Newhurst Quarry site was "not appropriate".
The public inquiry examined the council's original decision to turn down the plans.
Jeff Rhodes, Biffa planning and permitting manager, said: "This is a really important decision for Biffa and for Leicestershire as the area currently has no long term solution for waste.
"We believe that it makes no sense to put waste which we cannot recycle into landfill, both environmentally and financially, when the value inherent within it can be used to generate energy.
"This is a significant step forwards in the development of sustainable and renewable energy infrastructure in the UK."
A spokesman for Leicestershire County Council said: "We are disappointed that local decision making has been overturned and will now look carefully at the reasons why the secretary of state agreed to approve these proposals, before we can make any further comment."
In overturning the decision, the Department for Communities & Local Government report said the benefits of the scheme were "substantial and compelling".
The report went on: "These considerations outweigh the harm by way of impact on the appearance and character of the area, heritage assets and conflict with certain policies of the development plan."
The county council has six weeks to challenge the decision.