Blue tit 'tank' hit by flooding in Leicestershire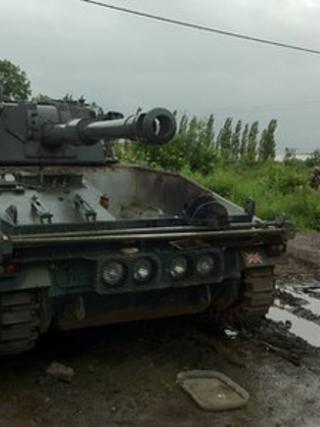 Restoration work on a British armoured vehicle which stopped after blue tits made a nest in the barrel of its gun has been halted again due to flooding.
Repairs resumed on the FV433 Abbot self-propelled gun, at Measham Lodge Farm in Leicestershire, after the birds fledged in June.
Tank driving instructor Charlie Wright said the outdoor working area has flooded during the wet weather.
The vehicle should have been attending events in the area, he added.
Mr Wright said: "The working area is thick with mud with seven inches of water. We've got the tracks on it but we can't get the engine in until it's dry."
In May a nest was discovered by Mr Wright 3ft (91cm) down the vehicle's gun.
He said the restorers were "stuffed" until the chicks had left but they saw the funny side of the situation.
The Abbots were used by the British Army between 1965 and 1995.