Leicester Caribbean Carnival will 'definitely' have a procession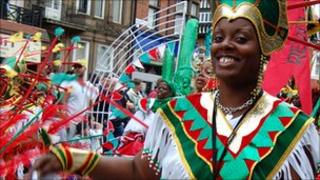 Leicester's Caribbean Carnival in August will have a procession through the city centre, organisers said.
In 2011 the parade of 1,500 performers had to be dropped because there was not enough money to stage the procession.
The community carnival, one of the biggest of its kind in the UK, will be held on 4 August at Victoria Park.
Carnival chairman Dennis "Sugar" Christopher said the route was yet to be confirmed but he could say there would "definitely" be a parade.
Last year was the first time in the carnival's 26-year-history that the event took place without a procession.
Mr Christopher said: "There will definitely be a procession and it's going into the city centre.
"We're now looking at all the health and safety issues as there are roadworks and things at the moment in the city.
"We have a meeting on Tuesday but just to cross the Ts and dot the Is."
Funding for all festivals and events, including the Caribbean Carnival, is currently the subject of a public consultation.
Proposals drawn up by the city mayor Peter Soulsby could see the council cutting £40,000 of funding from the Caribbean Carnival and closing the annual Castle Park Festival.
The public consultation will continue until the end of July.
Up to 100,000 people attend the Caribbean Carnival each year.
The carnival currently receives money from Leicester City Council and the Arts Council, with additional support from organisers' own fundraising.