Hoard of Celtic coins found in Leicestershire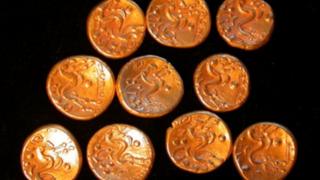 Ten gold coins dating back more than 2,000 years have been discovered in Leicestershire.
The coins, depicting horses surrounded by mysterious symbols, are believed to have been made in northern France or the Low Countries between 60-50 BC.
They were found on farmland in Peatling Magna, near Market Harborough, by a metal detector enthusiast who has now sold them to the county council.
The coins will be displayed at Harborough Museum from 17 July.
They will sit alongside the Hallaton Treasure, a collection of 5,000 Iron Age and Roman coins which were discovered in 2000.
'Dream find'
Leicestershire County Council historians said the new find suggested the area's Iron Age inhabitants may have had contact with their continental counterparts.
Wendy Scott, finds liaison officer, said: "The coins are significant as you don't normally find imported coins this far north.
"Along with the Hallaton Treasure, they hint at the importance of Leicestershire in the Iron Age."
Steve Bestwick, who found the hoard, said: "When you find the first one you don't quite believe it's gold.
"When you find a few you realise there could be lots. Then you focus and listen carefully to your machine as this could be the dream find - an ancient hoard.
"These coins bring up so many questions. Why did they come to Leicestershire? What sort of journey had they been on?
"How did they get here from the continent so long ago before cross-channel ferries? Who was the last person to hold them and what did they mean to them?"