Campaign to save the Regal Cinema in Melton Mowbray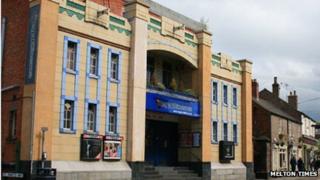 A campaign has been launched to get an independent Art Deco cinema open again after its owner died.
The Regal Cinema, in Melton Mowbray, has been described by screenwriter William Ivory as the "finest cinema in England".
It has gone into voluntary liquidation but some people from the town want to run it as a social enterprise.
The future of the cinema will be discussed at a Melton Community Forum meeting on Thursday.
A Facebook group called Save Regal Melton has more than 120 members from the Leicestershire town and beyond.
One of the members, Sue Bailey, said: "When we saw in the newspaper that the Regal was going to close we were so upset because it's a beautiful cinema and we go often and see all the big films there and it's usually full."
Made in Dagenham
Mrs Bailey has been inspired after seeing how people in Leyburn, North Yorkshire, reopened their cinema and started running it as a registered charity.
She said people in Melton have already offered their support.
"The thing we mostly want is the experts to run it - financial, legal and business experience mostly," she said.
She said people would now have to travel to Leicester or Nottingham to go to the cinema.
"You would have to go by car or bus and that makes it quite an expensive thing for families," she said.
The cinema, which dates from the 1930s, was taken over by John Merryweather in 2000.
After he died on 23 April, aged 65, screenwriter William Ivory was among those to pay his respects.
Mr Ivory, whose work includes the film Made in Dagenham, wrote on the cinema's Facebook page: "We're so shocked and saddened to hear of John's death. He was a dear friend and a wonderful champion of cinema."
The Melton Community Forum meeting will take place in the council chamber at Parkside at 14:00 BST.