Leicester sees population rise by 47,000 in 10 years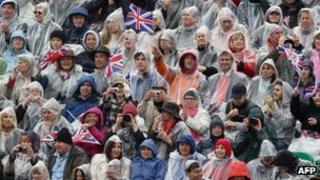 Leicester has seen the highest growth in population in 10 years after London, Manchester and Milton Keynes.
Between 2001 and 2011, the number of people went up by 47,100 (almost 17%), from 282,800 to 329,900, according to the latest 2011 Census figures.
Leicester was also the most densely populated city in the East Midlands with 4,500 people per sq km, equivalent to about 45 people on a rugby pitch.
The average population density was 371 people per sq km in England and Wales.
'Greater challenge'
In the census, which has been carried out every 10 years since 1801, apart from 1941, by the Office for National Statistics (ONS), the public were asked questions about their jobs, health, education and ethnic background.
The form was compulsory, but a question about religion was optional. The answers are used to allocate funding for services such as education, transport and health.
Leicester's deputy mayor Rory Palmer said: "This census data comes at a time when we're seeing our budgets being slashed.
"The government has historically underestimated Leicester's population so a projected increase, which we hear of today, only makes that challenge of providing the services we need and want to provide even greater.
"I hope the government will look at this census data closely and ensure that their funding decisions recognise the true size of the city's population."
The ONS said Leicester had the smallest proportion of people aged 65 and over in the East Midlands with almost 36,300 - 11%.
But it had the largest proportion of people aged 19 and under, with about 89,000 (27%), and under-fives about 23,000, (7%) of Leicester's total population.
The census also showed that the smallest increase in the East Midlands was in the borough of Oadby and Wigston, with a growth of 0.7% from 56,200 to 55,800 people.
Rutland had the smallest population in the region with 37,400 people - 34,600 people in 2001, but the county still grew by 8.1% from March 2001 to March 2011.
Jil Matheson, a national statistician, said: "These statistics will provide valuable information for planners, policy-makers and the public for years to come."
More figures are due to be released between November and February 2013 and will feature statistics including national identity, ethnicity, marital and civil partnership status and religion.