Leicestershire County Council £13m underspend quizzed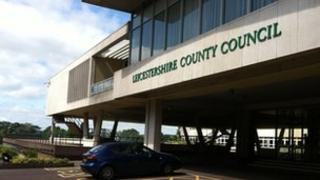 Leicestershire County Council, which is proposing a number of cuts, has projected an underspend of £13m.
It comes at a time when the authority plans to cut 1,500 posts by 2016 and services to save £98m over five years.
Campaigners opposing the cuts are questioning where the underspend has come from and whether the proposed savings are being made "too quickly".
The Conservative-run council, which has a £300m budget this year, said it has "managed our budget prudently".
'Quite significant' amount
Keith Libetta, regional organiser for the union Unison, said: "It certainly calls into question the whole principle behind the cuts programme which the council are following.
"It does concern us that this level of underspend in one year is quite significant and it questions whether or not the cuts are being made too quickly."
Tony Church, from Leicestershire Against the Cuts, said: "If there is that big underspend the first question is how has it been achieved?
"If it has been achieved then I would expect that to be put back into the budget to stop some of the cuts that the county council wish to make and to protect services that the public require."
The county council said it was planning to spend the cash on repairing roads, buying new gritters and repaying debts.
Acting deputy leader David Sprason said: "We are delivering more effectively and efficiently and as we do that we are realising those savings.
"By managing our budget prudently, we can find the money to invest in road repairs and gritters and reduce our borrowing costs by a significant amount."
The county cabinet is due to meet on 23 July to agree how to use the projected underspend of £13m.