RF Brookes factory in South Wigston cuts jobs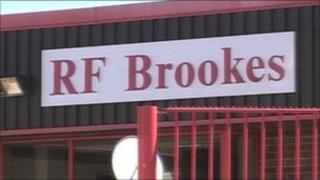 An additional 150 workers are facing redundancy at a pie and pizza factory in Leicestershire.
The 2 Sisters Foods Group, owners of RF Brookes in South Wigston, has already laid off 200 workers at the plant.
The firm recently moved production to Nottingham following several strikes over redundancy packages, a 2 Sisters spokesman said.
Tony Lewis from the Bakers and Allied Workers Union said staff are "gutted" at the additional redundancies.
Former owners Premier Foods sold the loss-making plant to 2 Sisters Foods seven months ago.
Mr Lewis said: "The company has increased the amount of redundancies … with a total of 350 employees to be made redundant.
"People are gutted and let down, especially those with a long history of service."
2 Sisters spokesman Andrew Hanson said: "We are trying to turn around this loss-making site and we have been working hard to improve it."
He added that production of pizza toppings in Leicester was moved to Nottingham as a result of several recent strikes - and jobs have been lost at the plant as a result of the move.
"We have briefed our employees on this move and will continue to work with employee representatives and unions," he added.
RF Brookes, which had 720 employees before the layoffs, lost a major contract to supply pies to Marks & Spencer in June 2011, prior to the takeover.