Loughborough gets £100k to revive High Street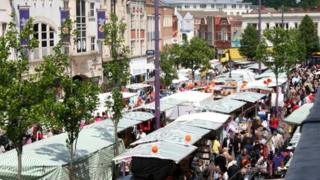 An "impressive" bid by Loughborough has won £100,000 of government money to help regenerate the High Street.
Local partners will add £175,000 to the project to fill empty shops and extend the market in the hope of attracting more people to the town centre.
Loughborough University students will also help businesses use social media to attract a younger market.
The town was one of 15 areas in England to get a share of a £1.5m pilot scheme led by retail expert Mary Portas.
Ms Portas described the traditional High Street as being at crisis point.
Twelve towns, dubbed Portas' Pilots, were given cash to rejuvenate their shopping areas in May.
'Lasting benefits'
Loughborough Business Improvement District (BID), which lost out in the first round of funding, submitted a successful revised application.
BID chairman Roger Perrett said the money would be spent on more retail and market stalls, an evening market and a tie-up between business students and traders in the town.
"We've put together a strategic vision for the town, which is part of a five year programme...that will have lasting benefits," he said.
"We hope the money will help the community to re-engage with their town."
About 11% of shops in Loughborough town are empty. Mr Perrett added: "It's tough, businesses are under pressure and the economy's tight, there's no two ways about it."
Local government minister Grant Schapps said he was "very impressed" with he town's bid.
"In particular the tie-up with students and the different and clever ideas of bringing traders into the business school, like social networking," he said.
"One of the things I was looking for was real co-operation between local partnerships... and that was one thing that made Loughborough stand out."
The other local funding partners are Charnwood Borough Council, the Local Sustainable Transport Fund and Leicestershire County Council.