Shepshed incinerator decision will not be challenged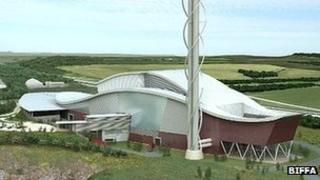 MPs and councillors have decided there are no grounds for a legal challenge to a proposed incinerator in a Leicestershire village.
Biffa has been given permission to build a plant near Shepshed capable of burning 30,000 tonnes of waste a year.
Leicestershire County Council twice rejected the planning application but its decision was overturned by the government after a public inquiry.
Loughborough MP Nicky Morgan said a judicial review was not an option.
The proposed development had met with strong local opposition, with critics claiming the scale of the plans was "not appropriate".
Biffa appealed against the county council's ruling and the decision was overturned by the government after it held a public inquiry.
The Department for Communities & Local Government report said the benefits of the scheme were "substantial and compelling".
'Waste solution'
Now a meeting between county councillors, the Conservative MP for North West Leicestershire Andrew Bridgen and fellow Tory Nicky Morgan, has concluded there is no scope for challenging the government's decision.
Ms Morgan said: "It appears the legal route is one we're not going to be able to go down.
"The county council are now going to be in discussions with Biffa about their plans for the site. They have until 28 June 2015 to start development.
"There are a lot of conditions attached to the building which Biffa will have to satisfy the county council about before it can start making the ground ready, so we are some way off."
Biffa says the incinerator is important for Leicestershire as the county has no long-term solution for waste.
Jeff Rhodes, the firm's planning and permitting manager, said: "We believe that it makes no sense to put waste which we cannot recycle into landfill, both environmentally and financially, when the value inherent within it can be used to generate energy.
"This is a significant step forwards in the development of sustainable and renewable energy infrastructure in the UK."