Fire damaged Friars Mill could be bought by council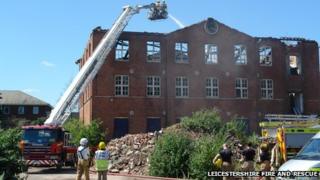 The mayor of Leicester has said a historic factory badly damaged in a fire could be bought by the city council.
Sir Peter Soulsby wants to safeguard the future of the Grade II listed Friars Mill building on Bath Lane after it was gutted by the blaze on 22 July.
The authority said it was footing the bill for 24-hour security at the site as its owners had gone bankrupt.
Sir Peter said a compulsory purchase order could be used to buy the site.
The derelict three-storey building, known locally as the Donisthorpe factory, had been targeted by vandals since a planned development stalled.
Investigators have been unable to conclude whether the fire at the building, which dates back to 1790, was started deliberately or accidentally.
'Beautiful building'
The council is now eager to safeguard its future and is hoping a developer may come forward to take on the site as part of a larger regeneration project.
If not, Sir Peter said the council could opt to compulsory purchase the site.
He said: "That's right at the back of it but it's one of the weapons we've got to be prepared to use.
"In the past the council's been far too timid. We've got powers we should be using and have got moral responsibility to use.
"It's a beautiful building and an important part of our industrial and architectural heritage.
"We can't turn our backs to it and watch vandals reduce it to a pile of bricks as they have done to so many other city buildings.
"The property owners have gone bust so technically the property doesn't have a legal owner.
"The bank that had the mortgage from the owners has refused to take responsibility for it so the council has to protect the public and the building."