Hinckley £80m revamp 'will go ahead', council bosses say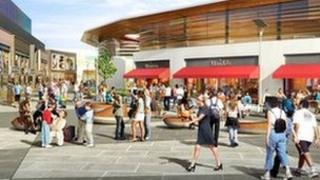 An £80m project to regenerate a Leicestershire town will go ahead, despite fears plans had been shelved.
Plans to develop an area of Hinckley known as The Crescent were approved in January 2011 but other than some demolition, no work has taken place.
Steve Atkinson, chief executive of Hinckley and Bosworth Borough Council, said although project timings had slipped, the developers were committed.
Work on a new supermarket, cinema and bus station should start in early 2013.
"I'm very optimistic that the developer [Tin Hat] is still committed to a scheme in Hinckley," said Mr Atkinson.
"It will be slightly later than we intended and it will be phased in. We think the first phase will be completed in early 2015 and the rest probably in the 12 months afterwards."
'Economically viable'
It had been expected the project would be completed by the end of 2014 but due to the "international and national economic situation", Mr Atkinson said there had been some "slippage" with the timetable.
He said the Tin Hat Regeneration Partnership had last met with the council three weeks ago.
"If they felt it wasn't economically viable they'd be pulling out now. They haven't done that, quite the opposite", he said.
The council said the plans would also include shops, family restaurants and a new shoppers' car park.