Second child dies after Leicester pushchair car crash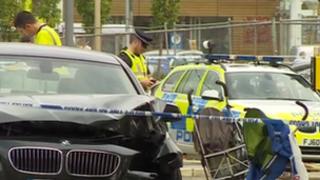 A second child has died after a crash in Leicester which killed a one-year-old boy in a pushchair.
The children, both of Leicester, were in pushchair near Narborough Road when a BMW and Mini Cooper collided.
Oliwier Baczyk, one, died in hospital after the crash on Monday morning, and Zofia Tabaka, two, died overnight.
A woman, 40, and a 61-year-old man arrested over the crash have been bailed, but police have not revealed details about how the crash happened.
Both children were taken to the Leicester Royal Infirmary.
Two men pushing the pushchairs suffered minor injuries.
Images from a CCTV system have been offered to police by Bob Young, from First Alarms on Braunstone Gate.
He said: "It is very shocking because [the pictures] are very graphic and it shows you exactly what happened."
Police have appealed for witnesses to come forward with information.