Jubilee Square and Leicester city centre plans unveiled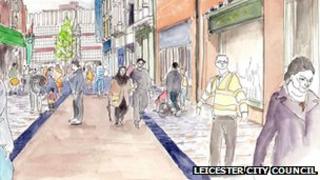 Plans to improve parts of Leicester city centre, including a new square, are set to be unveiled.
The city council wants to develop a series of projects that will "improve links between shopping, leisure, heritage, housing and transport".
This includes extending the pedestrian zone around Hotel Street and the £4m Jubilee Square at St Nicholas Place.
Plans for both the square and the Connecting Leicester project will go on display at Wygeston's House.
Leicester's mayor, Sir Peter Soulsby, said: "Connecting Leicester will provide a blueprint for the development of the city centre, setting the standard for developers and making it clear our aim for a pedestrian-friendly environment where people can enjoy everything that Leicester has to offer.
"We have many unique attractions but less sensitive developments carried out in the past have put barriers between them and the dominance of roads prevents pedestrians from moving freely from place to place."
There are also plans to extend New Walk by widening the footpaths on Newarke Street, to "provide a better connection to the Magazine".
The consultation period for Jubilee Square will run until 30 September.
Some traders have criticised the plans for the square, saying the £1.8m Granby Street Gateway scheme, which was completed in 2011, had a detrimental effect on their businesses.
The Connecting Leicester project will also go out for consultation until 31 October.