University of Leicester receives record £7m donation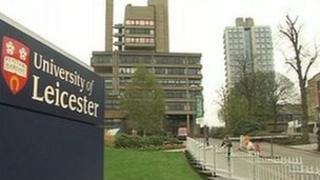 The University of Leicester has been given a £7m donation - its biggest gift since it was established in 1921.
The money, which has come from the John and Lucille Van Geest Foundation, will be used for both laboratories and a fund for studies into heart disease.
About £2.5m is being used to build a biomarker facility, housing three new mass spectrometers to measure proteins, lipids and metabolites in blood.
The lab will be near the Cardiovascular Research Centre at Glenfield Hospital.
The rest of the money, £4.5m, will be used to set up the Van Geest Foundation Heart and Cardiovascular Diseases Research Fund.
It is hoped this fund will allow researchers from the University of Leicester compete for funding for the most "exciting and cutting-edge studies that will advance the fight against cardiovascular disease for years to come", a university spokesperson said.