Leicester pushchair car crash families 'heartbroken'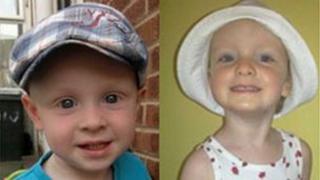 The families of two children killed when a car hit their pushchairs in Leicester have told of their "utter sense of grief".
Oliwier Baczyk, one, died in hospital shortly after the crash on the morning of 6 August. Zofia Tabaka, two, died hours later.
Police are continuing to investigate the two-car crash at the junction with Narborough Road and Braunstone Gate.
A man and woman were arrested and later bailed.
The children's bodies are being repatriated to Poland.
Family spokesperson Alicia Komar said: "It's impossible to put into words the utter sense of grief we feel following the loss of Oliwier and Zofia. The heartbreak is indescribable.
"However, if there is any form of solace we can draw from this situation it is in the support we have received from everyone in the community."
The children both lived in Leicester.
Ms Komar said the families had been "overwhelmed and humbled" by the way local people had reacted to their tragic loss.
She added, on behalf of the families: "Grief has no language barriers, no cultural differences - the pain and loss is universal and in the past week, we have found, so has been the support.
"This has given us great comfort and for that we would like to say thank you."