Baby Skye Jacques death 'might have been prevented'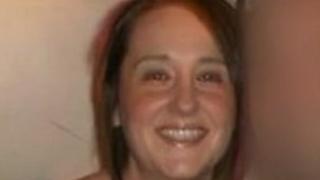 The death of a Leicester baby smothered by her mother might have been prevented, a review has found.
A report into the death of seven-month-old Skye Jacques describes how her mother, Carly Jacques, became mentally ill after her husband had an affair.
When Skye was three months old, her father admitted he was expecting another baby by his wife's friend.
The report said several agencies knew about the family's problems, but information was not "linked together".
Mrs Jacques also reported being psychologically and physically abused by her husband, but this information was not passed on to her health visitor.
Birgitta Lundberg, who wrote the serious case review, said: "The information was passed over by professionals without any proactive two-way involvement to discuss the information in line with the current guidance and procedures.
"As a result Baby L did not receive the services, which should have been in place and which might have prevented the death of Baby L."
Skye died on 30 October last year.
A paramedic who went to the family home described Mrs Jacques as "having cut her [own] throat and wrists".
'Distressed' police call
When Mr Jacques told his wife about his affair in late June 2011, the report says she spoke to police on the phone in a "distressed state".
Later that day police were called to the home again as Mr Jacques had locked his wife out.
Police forced entry and found him unconscious, having consumed alcohol and tablets, and surrounded by weapons including an air rifle and two hunting knives.
A police report was sent to the children's social care service, but they did not share the information with Mrs Jacques' health visitor.
Mrs Jacques was seen by a GP 11 days after the first incident, where she reported experiencing panic attacks and described violence and marital problems.
She was referred to a counselling service, but the GP did not consult the health visiting service, which remained unaware of the family's problems.
'Agitated and shouting'
In her first therapy session Mrs Jacques described her husband abusing her - including once when she was holding Skye.
She also reported depression, anxiety and panic attacks.
The following evening, police were called to the home of Mrs Jacques' mother, where Mr Jacques was "agitated and shouting", and "confrontational" with police.
Police reported this incident to the children's social care service, but no action was taken.
Mrs Jacques' family also reported problems to NHS Direct, but no information was passed on to the health visitor and GP.
After a referral from Mrs Jacques' therapist, a social worker offered her advice and sent her a booklet about domestic violence.
Again, this information was not shared with the health visitor and GP.
Mrs Jacques, 32, was made the subject of a hospital order on 8 June after admitting infanticide.