Hand-only controls on Leicestershire glider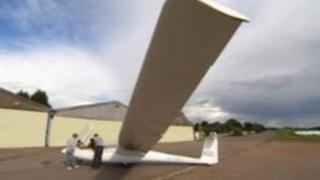 A glider has been modified to be flown using only hand controls at a Leicestershire gliding centre.
Steve Wilks, from Husbands Bosworth Gliding Centre, said they have removed the pedals to allow some disabled people to use it.
He added that working with a disabled hang gliding and paragliding group has made the specially-adapted aircraft possible.
The centre is hoping to run lessons after a trial period.
"We get a lot of passengers who fly with us who have disabilities," Mr Wilks said.
"They can enjoy flying but they can't actually fly themselves because they don't have the ability to use all of the controls.
"We have been looking to convert a glider to allow that to be addressed in much the same way that cars are converted to those who don't have use of their legs to allow them to drive."
Mr Wilks added that over the past 10 years, he has worked with Flyability, the paragliding and hand gliding disability group.
"I've been fortunate to work with specialist pilots... and we saw that same ability can be created in gliding," he said.