Glenfield hospital child heart surgery loss: No legal challenge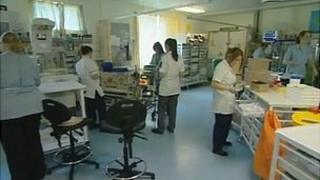 Health bosses say they have decided not to take legal action against the decision to stop children's heart surgery at a Leicester hospital.
Services are to be relocated from the city's Glenfield Hospital to Birmingham as part of a national reorganisation.
Leicester's NHS trust said it had concluded there were no realistic grounds for a judicial review after consulting with a barrister.
Instead it plans to present a clinical case against the decision.
In July, the Joint Committee of Primary Care Trusts (JCPCT) said the East Midlands Congenital Heart Centre at Glenfield should be one of three to close nationally.
Fewer but larger
The hospital will continue to diagnose young heart patients and provide non-surgical treatment but surgery will move to Birmingham Children's Hospital.
The University Hospitals of Leicester NHS Trust said it had been advised there were no grounds to challenge the legality of the decision.
Instead the trust plans to present a clinical case to the JCPCT that Birmingham does not have the capacity to handle the expected future demand.
It will also voice concerns about the impact on Ecmo (Extra Corporeal Membrane Oxygenation) mortality rates.
The treatment is used to oxygenate the blood of patients when the lungs or heart stop working normally.
The JCPCT, which also decided to close child heart units at Leeds General Infirmary and London's Royal Brompton Hospital, has said creating fewer but larger surgical centres will improve the service.