Couple bailed in Welby farm shooting investigation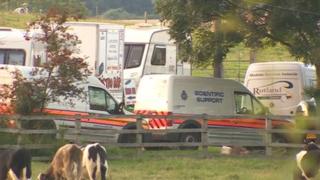 A householder and his wife who were arrested after suspected burglars at a farm were shot have been bailed.
Officers were called to the farm near Welby, Leicestershire, on Sunday by a man who said he had fired a legally-held shotgun at a group of intruders.
The man, aged 35, and his wife, 43, were held on suspicion of causing grievous bodily harm. Leicestershire Police confirmed they had been bailed.
Two men have been charged with burglary in connection with the incident.
The men, aged 27 and 33, and from Leicester, have been remanded in custody to appear at Loughborough Magistrates' Court on Wednesday.
Two other men, who were arrested on suspicion of aggravated burglary, have been bailed pending further inquiries.