Rare moth found in Outwoods park in Leicestershire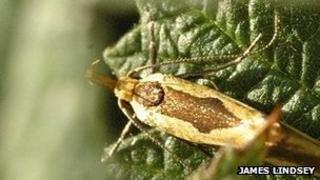 A rare moth that has only been found three times in the UK has been recorded in an ancient woodland in Leicestershire.
Rebecca Faulkner, a student at Nottingham Trent University, discovered the creature at the Outwoods, near Loughborough.
Harpella forficella, a micro moth, is usually found in warmer parts of Europe.
Ms Faulkner said it was exciting to find the rare species.
The student, who is doing a wildlife conservation degree, said: "I love moths, they are really interesting. I think they are beautiful creatures.
"At first I had no idea it was a rare moth. But when I sent a photo to the county [wildlife] recorder he was able to identify the moth and tell me the good news."
The Outwoods is a Site of Special Scientific Interest and has some of the oldest exposed rocks in the country.
During her dissertation, Ms Faulkner, who is from Barrow-Upon-Soar, identified 185 different moth species.