Loughborough library closes for £1.3m revamp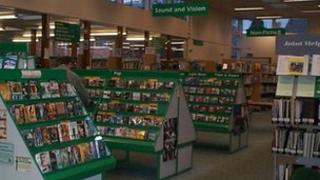 Leicestershire's largest library has closed for seven weeks as work continues on a £1.3m refurbishment.
Leicestershire County Council is making Loughborough library, in Granby Street, bigger to enable three of its services to operate from one site.
The council said residents would be able use one of the other 12 libraries in Charnwood while the Loughborough site was closed.
The library is due to reopen on 19 November, the council said.
Once work on the library is completed, the local studies collection will be brought down to the ground floor, new adult learning facilities will be available and a multi-sensory area will be created.
David Sprason, cabinet member for adults and communities at Leicestershire County Council said it wanted to join up more services in its buildings to improve choice.
Anyone who borrowed books or DVDs from Loughborough after 10 September, will not have to return their items until 19 November.