Afghan interpreter: Leicester man's asylum reconsidered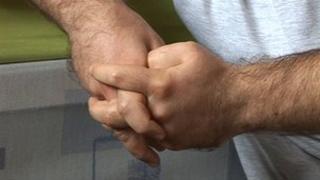 An Afghan interpreter living in Leicester who was injured by a Taliban bomb while working for British forces has heard his rejected asylum application is being reconsidered.
The UK Border Agency (UKBA) rejected the application on Tuesday due to insufficient proof of identity.
It also did not accept claims of death threats by the Taliban to the 26-year-old and his family.
UKBA said increased publicity had led to new and significant information.
The agency told Mohammed he had provided insufficient proof of his identity and work with British forces.
Mohammed - whom the BBC has agreed not to name fully to protect his family in Afghanistan - said he showed nine military ID cards, all genuine, as well as several references and photos of himself being treated for his injuries at Camp Bastion's field hospital.
He said his body bears the scars of the Taliban bomb which blew up the unit he was working with in Sangin on 14 November 2007.
The attack killed the British Army captain, John McDermid.
The Afghan interpreter suffered shrapnel wounds to the head, neck, arms and chest and was deaf in one ear for over a year. He still suffers headaches and depression.