Bradgate Unit's 'failings' in Gagandip Singh Sandhu death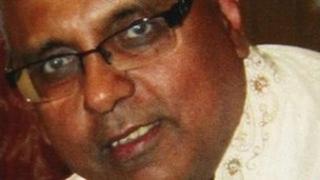 A coroner said there was "gross failure" to provide basic medical attention to a man who walked out of a Leicester hospital and killed himself.
Gagandip Singh Sandhu was a patient at Bradgate Mental Health Unit, at Glenfield Hospital, and should have been accompanied while off the ward.
The 55-year-old former independent financial adviser was found hanging from a tree in a park last November.
The NHS Trust involved said it has since changed escort policies.
Mr Sandhu was one of seven people with mental health issues to die in 19 months while in the care of Leicestershire Partnership NHS Trust.
'Learn from mistakes'
His daughter, Priya Sandhu, said after the hearing: "Nothing's going to bring my dad back. He should still be here with us. He should still see his first grandchild who was born five weeks ago.
"But I just hope this never, ever happens to anyone again. If they just learn from the mistakes that they made, and they made a lot.
"His tragic death is a matter of deep sadness for our family. We feel that his death was preventable and it clearly was."
Mr Sandhu, from Knighton, had bipolar disorder and became suicidal.
He was put on escort leave, which meant he should have been accompanied at all times while off the ward.
But on 18 November last year a nurse left him unattended in a day room.
He walked six miles to Knighton Park, where he killed himself.
At the end of an inquest at Leicester Town Hall, coroner Catherine Mason said there was "gross failure to provide basic medical attention to Mr Sandhu" and this had a direct link with his death.
Changes made
John Short, chief executive of Leicestershire Partnership NHS Trust, said the trust accepts the coroner's verdict, which supports its own internal inquiry results.
But he said the number of deaths at Bradgate was not "outside a predicted number".
He added: "You can never rule out the risk of suicide in mental health services but we have made a number of changes at particular levels."
He said the inquest had highlighted "individual staff failures and their failure to maintain professional standards".
"In relation to this particular inquest, we've already made changes to observation and escort policies on the ward and given nurses additional protected time to write up patient notes," he added.