Lubbesthorpe development approved by Blaby councillors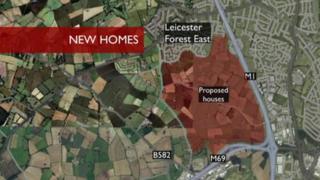 Plans for the development of a new town in a rural area to the south-west of Leicester have been approved.
Developers want to build 4,250 homes in the Lubbesthorpe area, together with three schools, an employment park and district centre.
The plans attracted more than 2,000 objections and an action group campaigned against them.
But councillors on Blaby District Council's development control committee voted in favour of the plans.
At a meeting earlier they approved a recommendation that outline planning permission should be granted, provided the secretary of state does not intervene.
While four councillors voted against the plans, 13 were in favour.
Paul Fox, from campaign group Leicester Forest East Residents Action Group, said: "We want houses in Leicester Forest East and around but this area just will not accommodate the amount of traffic that the new town will develop.
"We are talking about 4,250 houses, 7,000 cars, and the existing road network just cannot cope.
"The land use is 1,000 acres, which is the same size as Market Harborough."
He added it would be "highly unlikely" that the government would block the application.
So many people wanted to attend the meeting that tickets needed to be issued, live screenings were held in two other venues, and the meeting was streamed online.
The developers began public consultations over the plans in 2010 and a planning application was submitted in early 2011.
The plans were changed because of some concerns raised during the consultation and the application was updated in May this year.
The 4,250 new homes will include those for families and first-time buyers and bungalows for the elderly.
The developers said the business park could create more than 1,500 jobs.
The district centre will include space for shops, a health centre and a community centre.
Paul Burton, from the consortium of developers, called the New Lubbesthorpe Promoters Group, said: "We appreciate that change causes concern and we have sought to ensure that this is a very high quality development.
"Almost half of the site will be green space, with woodland and hedgerows providing an attractive setting and helping to maintain the separate identities of existing communities."