Claire Squires death: Annual event for marathon runner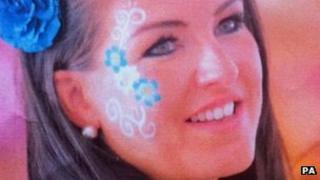 An annual fundraising day is to be launched in memory of a Leicestershire woman who died running the London Marathon.
Claire Squires had aimed to raise £500 for Samaritans but donations reached more than £1m after she died.
The charity has worked with her mother to develop The Claire Squires Fund - a programme of projects to reflect how she would have wanted the money to be used.
The event will launch in 2014.
Her mother, Cilla Squires, said: "The money donated in Claire's memory leaves us lost for words and it has been a great comfort to know that Claire touched so many people.
'Lasting legacy'
"She would have been excited to know that so much money had been raised, and we have worked so hard to make sure that it is being used the way Claire would have wanted.
"No amount of money can ever bring Claire back but we can hopefully make a real difference and leave a lasting legacy for my beautiful daughter."
The 30-year-old hairdresser from North Kilworth collapsed a mile from the marathon finish line in April.
She had been a keen fundraiser for Samaritans in support of her mother, Cilla, who has been a volunteer with the organisation for 24 years.
Catherine Johnstone, chief executive at Samaritans, said: "No one at Samaritans will forget Sunday 22 April 2012 or the days that followed.
"The staggering amount of money donated in Claire's memory will create a lasting legacy at Samaritans."