Catherine Junior School still closed after fire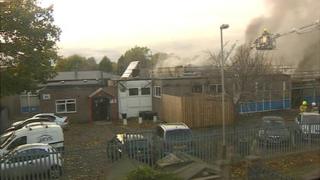 Children from a Leicester school damaged by a fire will have to be taught somewhere else for at least the rest of this term.
About 400 pupils were evacuated from Catherine Junior School, in Brandon Street, after the fire broke out at about 14:00 GMT on Tuesday.
Asbestos in the building was released because of the fire.
The site must now be decontaminated before structural engineers can fully assess the damage.
Leicester City Council is making emergency payments to parents whose children have lost clothing and belongings in the fire.
Councillor Vi Dempster, assistant city mayor, said: "We are very aware this situation is putting great pressures on families and we are doing all we can to sort this out as quickly as possible, including talking to other schools and education providers in the area."