Loughborough sweet firm Hancocks is sold for £50m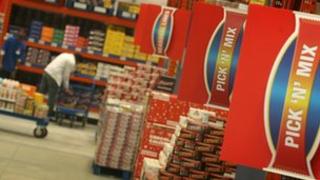 The multi-million pound sale of a family-run Leicestershire sweet firm will not put jobs in danger, staff have been told.
Hancocks, based in Loughborough, specialises in wholesale pick 'n' mix and was bought this week for £50m.
Twins Andrew and Adrian Hancock, who recently turned 50, took over the business from dad Ray in 1986.
The new investors, H2 Equity Partners, have promised jobs are safe and have revealed plans for expansion.
'Strength to strength'
Hancocks was founded in Shepshed in 1962 by the twins' parents Liz and Ray Hancock.
The British love of jelly beans, cola bottles and liquorice soon saw the business expand, and it is now the country's biggest confectionery wholesaler with more than £100m in sales.
The firm currently has 18 depots around the country including sites in Sheffield, Manchester and Birmingham, and employs 300 people nationwide.
Andrew Hancock said he was confident the business was in good hands.
"From a sweet shop in Shepshed, our family has grown the business to a group that serves many thousands of businesses with their confectionery supplies," he said.
"We now hand the baton on with pride, knowing that Hancocks can only go from strength to strength."
Expansion plans
H2 Equity, a Dutch firm, has promised jobs will not be lost and said there were plans for five more depots over the next few years and to employ more staff at the group's head office in Loughborough.
As the Hancock twins step back from the company, Mark Watson, Hancock's longest serving employee, will remain as chief executive.
He said: "I am delighted to be leading such a strong company that has the prospect of becoming a much bigger player within confectionery wholesaling.
"We have some exciting plans and opportunities to take the business forward with H2 at the helm."
Hancocks has about 25,000 customers, including the Vue cinema chain and Merlin Entertainments, owner of Alton Towers, Thorpe Park and Madame Tussauds. It also supplies independent stores.