Further flooding on the cards in Leicestershire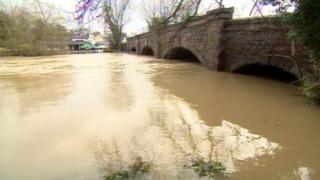 Warnings are still being issued to drivers and homeowners in Leicestershire over the continued risk of flooding.
In the village of Zouch 11 properties were evacuated, while about 40 homes were flooded in nearby Loughborough.
About eight flood warnings are in place in Leicestershire, mostly along the Soar and the Wreake.
The Environment Agency is warning householders to watch water levels.
The flooding forced Latimer Primary School, in Anstey, and Dovelands Primary School, Hinckley Road, Leicester, to close on Monday.
Residents in Zouch, on a chain of islands in the River Soar, have pulled together to battle the flood threat.
Neil Bertram, a chef at the Rose and Crown pub, said: "A lot of people are saying this is the worst they've seen it for 50 years.
"It hasn't quite come over the roads and the houses are OK at the moment, but it's close.
"Everybody is helping each other out and keeping an eye on everyone else."
'Too dangerous'
Police have been forced to put officers on duty at the scenes of some floods because drivers have been ignoring warnings.
Supt Mark Newcombe said: "Unfortunately, where we have put road closures, people have moved the signs or just ignored them altogether and gone through the water and that's sometimes created additional difficulties that the fire and rescue and ourselves have had to deal with.
"On one or two places we've actually had to put a police officer there constantly because people have totally ignored the signs and it has just been too dangerous."
Paul Lockhart from the Environment Agency said less rain was predicted on Monday but the flood risk from major rivers was increasing.
He added: "The problem we've got is obviously all the rainfall we've had has fallen on very saturated ground and is now working its way into the main river system, so rivers like the Trent and the Soar are starting to rise."
Anyone who needs sandbags should contact their district or borough council.