Leicester's Saffron Lane velodrome land sold for housing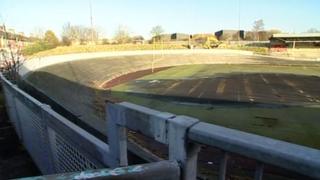 Part of a derelict former velodrome site in Leicester has been sold to make way for housing.
The Saffron Lane venue was once regarded as one of the top stadiums in the country but was demolished in 2008 despite a campaign to save it.
Leicester Housing Association plans to build 45 homes on the three acres of land which have been sold by Leicester City Council.
The remaining 3.5 acres are expected to be sold for private housing.
City Mayor Peter Soulsby said: "This is an important proposal that will attract significant investment into the city at a time when there's little house-building taking place.
"We urgently need new homes - and we urgently need to support the local building industry.
"These proposals will help achieve both objectives, while helping to regenerate a site that has been vacant since the velodrome was demolished in 2008."
Cyclists who have trained and raced at Saffron Lane include Chris Boardman, who won gold at the Barcelona games in 1992, and Bryan Steel, who was part of Team GB's Olympic sprint team at Athens in 2004.
The velodrome was built in the late-1960s but proved too costly to maintain and closed in 1999.
The city council said repeated acts of vandalism and anti-social behaviour forced it to begin demolition in 2008.
Campaigners had argued that money should have been invested into the facility.
Developers are expected to start work on the site early next year.
The first phase of the housing scheme is expected to be completed within two years.