Leicester Market £7m revamp plan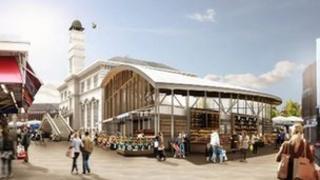 A £7m plan to improve Leicester Market has been unveiled by the city council.
Included in the proposal is the demolition of the 1970s indoor market and the construction of two new buildings near the Corn Exchange.
City Mayor Sir Peter Soulsby said the funding for the investment would come from the market's own surplus profit.
Plans for a £9m revamp were scrapped in 2010, and a controversial £600,000 scheme to renovate the indoor market was carried out in 2011.
Part of the covered market roof was removed, despite complaints from stallholders, to create The Market Corner to accommodate 20 gazebo-style food stalls.
The mayor said the new plan, which opens to public consultation next week, made "good business sense" and would last for decades to come.
"It is the chance to bring the meat and fish market into a modern building next to the open market," he said.
He also said it was important the space worked for the market traders who would use it, and that the public would be able to enjoy the space created by pulling down the old market building.