Leicestershire Police catch two lorry drivers watching DVDs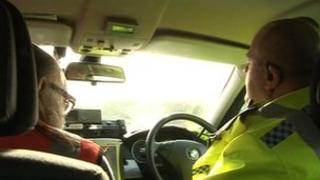 Two lorry drivers were caught watching DVDs while on major roads in Leicestershire in a police operation.
Officers used a heavy goods vehicle of their own to spy on drivers on the M1 and A1.
The three-day operation ran from Tuesday to Thursday and caught 90 drivers for a variety of offences.
Leicestershire Police said it was to cut down on drink-driving, not wearing a seatbelt, using a phone and speeding, known as the fatal four.
The force said the lorry drivers were watching foreign language films as they were not from the UK.
PC Russ Davies said police often had reports of lorry drivers watching DVDs on laptops, but it was usually difficult to prove.
"Invariably when drivers do it they start veering off onto the hard shoulder," he said
"Because of the height they are at it's difficult to prove they are watching a film, as some of them have sat-navs on their computers as well.
"So unless we can get up and see what they are doing we can't prosecute them."
Of the 90 drivers caught during the operation, 52 were not wearing a seatbelt and were given £60 fines.
'Bang to rights'
Another 21 were using a mobile phone, six were said to be not in proper control of their vehicles and two were watching DVDs. All were given a £60 fine with three points on their licence.
A further nine were caught driving longer than they should and were given a mixture of warnings and fines.
Dave Galloway was one lorry driver caught not wearing a seatbelt.
He said: "I didn't realise I was supposed to be wearing a seatbelt in a truck. I always wear one in the car.
"But they caught me bang to rights, you've got no choice really."
PC Davies added: "There's just that small minority who think, perhaps by their height, they are going to be immune from prosecution.
"What we are trying to achieve is to let them know we are out looking for these offences."