Age UK criticise NCP after bus damage in Leicester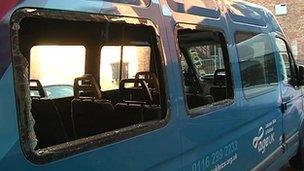 A leading charity helping older people has criticised the owners of a car park after three of its buses were damaged there.
Age UK's vans have had windows broken and graffiti daubed across paintwork in Leicester over two months.
The charity said the CCTV at the NCP car park, in Yeoman Street, was not working and its gates were not locked when they are supposed to be.
NCP said it wanted to improve security at the site but the CCTV was working.
Tony Donovan, executive director of Age UK, said he paid a "hefty rent" to the landlords and they had questions to answer.
"The CCTV cameras should have picked up the intruders and the gates to the car park should have been locked up at six o'clock," he said.
Mr Donovan said if the damage continued he might have to move the vehicles out of the city which would inconvenience the drivers and the people that use them.
"[The vandalism] causes stress to the older people that use the vehicles because they feel they are being targeted, they have taken it personally," added Mr Donovan.
One of Age UK's buses was set on fire during disturbances in Leicester in August 2011.
An NCP spokesman said the gates at the site were being left unlocked by users and it was looking into installing fob-operated barriers.
He said the CCTV system was in full working order.