Leicester's Newarke Street lane closed for pedestrian trial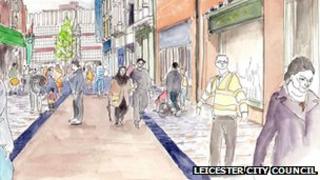 A section of Leicester's central ring road has been closed as part of trial to give pedestrians more space.
Newarke Street had its inside lane shut to traffic between Southgates and Pocklingtons Walk on Sunday.
If the closure does not cause any extra congestion the lane could be pedestrianised at a cost of £300,000, Leicester City Council said.
Mayor Sir Peter Soulsby said it was all part of the authority's Connecting Leicester project.
The city council wants to develop a series of projects that will "improve links between shopping, leisure, heritage, housing and transport".
This includes extending the pedestrian zone around Hotel Street and the £4m Jubilee Square at St Nicholas Place.