Moghul Durbar Leicester restaurant attack: Six arrested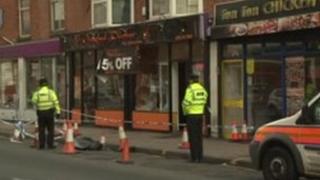 Six men have been arrested after a large group of people smashed the windows at a restaurant in Leicester.
Officers were called to Moghul Durbar in East Park Road shortly after 21:00 GMT on Monday.
A group of men had smashed windows at the restaurant and a number of people inside were assaulted or injured.
Police were given a further 36 hours on Wednesday to question the men arrested in connection with the attack.
Officers said the men were arrested less than an hour after the disturbance.
Six people were injured in the attack and taken to the Leicester Royal Infirmary for treatment. Three members of staff, all men, are still in hospital in a stable condition.
East Park Road, at its junction with Leicester Street and Nottingham Road, remained closed for most of Tuesday as officers carried out further inquiries and a cordon would remain around the area, officers said.
'Misinformation'
Detective Inspector Simon Preston said: "We are currently working closely with the witnesses and victims we have spoken to so far to find out as much as possible about the incident, and officers are looking into various lines enquiry."
He urged anyone who had any information to come forward.
Chief Superintendant Rob Nixon said: "I would ask local people not to listen to rumour or get involved in speculation.
"Misinformation has been used to mobilise people to get involved in something that is totally unnecessary and this type of action can undermine a legitimate enquiry which is ongoing.
"People taking the law into their own hands is not helpful and I would ask local people not to listen to rumour or get involved in speculation."
He said officers were speaking to community faith leaders to reassure them the incident was being treated seriously and to ensure there were no further reprisals.